Download Multiple Files at Once
Select multiple files across the website and quickly download them into one .zip file. Download the file for yourself or share a link with your custom selection.
Prevail Petite
Provides optical uniformity in a new smaller size, ideal for lower mounting heights. Available for both area site and wall mount applications.
Galleon II Floodlight
Delivers high-performance optical control in a scalable platform to solve even the most difficult design challenges.
SQ4 Perceive: See it in Action!
Now available, the SQ4 features Perceive technology, enabling customers to create unique lighting designs with 5 differentiated lens aesthetics giving the perception of depth on a 2-D line of light while also reducing glare.
Watch the new CoviO Graze video!
Coming soon from iO, the CoviO Graze enables a wide variety of lighting effects from texture, drama and mood to ambient fill light perfect for indoor and outdoor applications.
Watch the New CovSelect Video!
Coming soon from iO, the first-ever stock cove fixture. CovSelect features field selectable lumen and field selectable CCT making it perfect for any indoor cove application.
Markets
New content added to the website navigation bar showing featured Markets for Cooper Lighting Solutions. Explore these pages to learn more about the trends in the market, simple solutions for complex problems, lighting inspiration, and more.
DuraVolt Drivers Now Available
Surge events, voltage transients and dirty power continue to be some of the leading causes of premature failure in outdoor luminaires.
Architectural SSL Product Innovation Award Winners
Three Cooper Lighting Solutions products recognized. The Neo-Ray Define Acoustic Luminaire, Metalux Perceive LED Specification Series, and the HALO Home Bluetooth Speaker Downlight were honored with a Product Innovation Award (PIA) from Architectural SSL Magazine.
Corelite Discreet Now Available
The Corelite Discreet Linear surface and suspended product family is a thoughtful low glare control solution. It brings best in class visual comfort by offering unique dual level optical control for both indirect and direct distributions with precision engineered optics.
Corelite Perceive Now Available
The Corelite Continua SQ4 is now available with 5 differentiated lens aesthetics (PARAmid, Prism, Waves, Ripple and Honeycomb). Perceive is built to inspire emotion and use the power of our sensory system to enhance spaces by creating the perception of depth from a flat lens.
InDepth: New Designs
InDepth has added new designs, Sweep and Double Barrel, and factory-installed tile mount WaveLinx Pro and WaveLinx Lite sensors. Sweep is ideal for cluster patterns to offers designers more creativity in enabling larger lighting patterns.
Fail-Safe ArcMed APR and APN
Specifically designed for use in healthcare facilities where exam and ambient illumination is required, APR and APN provide architectural aesthetics to create a modern, contemporary look for patient rooms and behavioral health spaces.
Missouri Slope North Campus Project Case Study
Missouri Slope Lutheran Care Center, a long-term care provider in North Dakota, chose Cooper Lighting's luminaires along with a WaveLinx and Trellix solution which provides a reliable LED lighting and real-time location system to improve their resident and caregiver experience, and day-to-day operations.
HALO Home QuickLink
Installing canless smart lights has never been faster. QuickLink is a canless low voltage lighting system powered by a single remote power supply. Twist-connect up to 11 fixtures to the low voltage cable and see why QuickLink is up to 85% faster compared to traditional downlighting
Halo RL Slope Direct Mount
The RL Slope Direct Mounts are 4-inch and 6-inch canless LED modules designed specifically for slope ceiling applications. The modules feature an internal adjustment mechanism that directs light vertically down in virtually any ceiling pitch.
HALO Canless EZ Trim
The Canless EZ-Trim bridges the gap between traditional downlighting (housing + trim + lamp) and canless LED downlighting. Canless EZ-Trim is available in 4" and 6" apertures and is designed to look like Halo's best-selling trim, the 6125WB.
Perceive - Top 10 MUST SEE Products
Metalux Perceive was chosen by the EdisonReport to be in the Top 10 MUST SEE Products of LightFair. See page 48 of Designing Lighting magazine.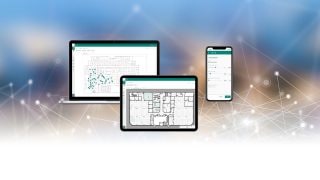 Phunware Announces Partnership with Cooper to Integrate MaaS with Trellix
October 12, 2021 - Phunware, Inc. (NASDAQ: PHUN) (the "Company"), a fully-integrated enterprise cloud platform for mobile that provides products, solutions, data and services for brands worldwide, announced today that it has partnered with Cooper Lighting Solutions
LUMAVISION Sports Light
Award-winning optical performance wrapped in a reliable construction for indoor and outdoor lighting.
(Coming Soon) CoviO Graze
The CoviO Graze from iO LED is coming soon and enables a wide variety of lighting effects from texture, drama and mood or ambient fill light. The high-performance LEDs and optics in this fixture are sure to raise the lighting impact to a new level. Watch the video to learn more.
Shaper Sense Now Available with 96 colors!
Shaper Sense fixtures are now available with 96 colors creating the opportunity for customization to create over 17 million SKU combinations! In fact, FilzFelt discontinued 10 colors... but added 40 NEW felt colors that are on par with trends and color forecasting. Check out our new video featuring Purple!
IFLD Infrastructure Flood
The all-new IFLD Infrastructure Flood Series brings scalability, reliability, and superior performance to reality with an optimized LED design with superior optical control.
Lighting the Home Office: 5 Must-Have Solutions for the Zoom Age
Remote work is here to stay; according to an August 2021 PwC survey on the future of work, 28% of employees and executives said they were "making permanent changes to how and where work gets done based on lessons learned from the pandemic."
WaveLinx Industrial Standalone Sensor
Daylight dimming and control for industrial luminaires that do not support the WaveLinx Industrial integrated sensor. Alternatively, the WaveLinx Industrial Standalone Sensor Kit can provide occupancy inputs to the WaveLinx system when not directly connected to loads.
'Nesting' phenomenon drives consumer demand for electronics, home renovation products
With real estate experts forecasting a lack in housing supply for years to come and interest rates creeping up, consumers are going to continue renovating and "nesting" well into the foreseeable future.
RL Night Light
The RL Night Light is available in 4" and 6" aperture sizes and features two modes: downlight mode for general area illumination and night light mode for a gentle glow illuminating the acrylic trim. The canless RL Night Light Direct Mount is easy to install and does not require a housing. It also features field selectable CCT.
HALO Canless HLB Slim Edge 4" & 6"
Installs virtually anywhere with no housing required. Features a polymer dead-front trim with a smooth lens and field selectable CCT.
CooperKit (CBRK)
Designed for renovation to upgrade existing fluorescent luminaires to LED and improve aesthetic quality, the CooperKit transforms a space in just minutes.
Metalux Perceive Wins Sapphire Award
Metalux Perceive won a 2021 Sapphire Award from LEDs Magazine for the Indoor Troffer, Track, and Downlight SSL Luminaire Design category.
Academic Health Sciences Center - Houston, TX | Case Study
Cooper Lighting Solutions LED lighting, WaveLinx Pro Wireless, and Greengate Room Controller systems improve occupant experience while reducing energy usage at the Academic Health Sciences Center in Houston, Texas.
How Hospitals Can Use RTLS to Save Time, Money, and Improve Care
The need to track people and assets has recently taken on new significance in the healthcare industry. Akin to an "indoor GPS," Trellix RTLS utilizes a network of connected sensors and tags to track the exact location of any tagged asset (or person).
Low-Voltage Power Module Selected for the 2021 IES Progress Report!
Winners, including the WaveLinx Pro Power Module and 5 other CLS products, were announced as selected for the 2021 IES Progress Report during the 2021 IES Virtual Annual Conference from Aug 9-13.
WSLA Linear Series
Designed for commercial interiors needing to add visual interest to large, open spaces, WSLA offers a hub design to allow various patterns with endless configurations.
How to Control Electrical Material and Labor Costs in a Recovering Market
Despite 2020's temporary, COVID-driven economic slowdown, the housing market is booming, and demand for remodeling services is through the roof.
Perceive the Illusion
Watch to find out how Perceive technology is your opportunity to add the WOW factor into any space. Blends subtle styling with an innovative optical system to create visual interest and provide comfortable illumination.
Architectural LED Linear Suspended
1-page guide comparing each product's features and solutions.
SLES Socket Fit Light Engine TLED Striplight
Designed for retrofit and new construction, SLES provides an affordable, energy savings solution over traditional fluorescent lighting.
WaveLinx Industrial Sidecar Sensor
Provides motion sensing, daylight dimming, and wireless control for connected 0-10V luminaires.
Enabling a Safe Return to Work During COVID | Trellix Locate & ZulaFly RTLS
How Cooper Lighting Solutions and ZulaFly technologies partnered to help CLS provide a safe environment and how the same solution can be used by others to enforce workplace safety during a pandemic.
GALN Galleon II Area & Site
Delivering best-in-class optical distributions, combined with unmatched configurability, Galleon II sets a new standard for high-performance lighting solutions.
It's Here: Galleon II
What happens when you take something great and make it even better!? Watch our fun, innovative, and immersive demonstration to find out all you need to know about the Galleon II.
*See legal note for external links here.
Our brands
We have 60+ years of experience in the lighting industry and we're here to stay. Take a look around and find out what we can do for you.
Resource center
Explore our one-stop-shop for spec sheets, brochures, technical documents, photography, and tool kits.
Our featured Smart IoT Systems
Lighting Education Center
The SOURCE has been the benchmark for lighting educational facilities and programs since 1991.
UV-C Disinfecting Solutions
Disinfection lighting operates at specified wavelengths to inactivate harmful pathogens and viruses. Cooper Lighting offers a wide range of innovative UV-C solutions to keep your environments clean.
MarketPro
Completing a lighting stock order is easier than ever. The MarketPro distributor stock program pulls our top selling lighting products and controls into one website. It allows you to build, download, and share your SKU listing in just a few clicks.
How we've helped other businesses build brighter
Ephesus Lumadapt 8 and Herb Brooks Arena
Made famous during the 1980 Winter Olympics when the U.S. hockey team's 'Miracle on Ice' game beat Russia and named after the late Herb Brooks, the 7,700-seat multi-purpose arena hosts national and international ice skating events. With the Lumadapt 8 luminaire, Cooper provided an entertaining experience that athletes, performers, and spectators could enjoy.
Why Cooper Lighting Solutions?
At Cooper Lighting Solutions, we build forward-thinking lighting solutions that make people's lives safer, while making buildings, homes and cities smarter and more sustainable. We deliver an industry-leading portfolio of indoor and outdoor lighting, lighting controls and smart lighting systems.

We question, we seek and we solve. Because building a better world means asking tough questions and pushing harder for answers. Together with our customers, we create solutions that build a better world. At Cooper Lighting Solutions, we push past the ordinary to build brighter.

Cooper Lighting Solutions is a business unit of Signify, the world leader in lighting. Together we have a shared purpose to unlock the extraordinary potential of light for brighter lives and a better world.