Vaulta Linear
A linear light fixture with an open aperture design, the Vaulta creates a striking presence with a weightless feel enhanced by clean edge aesthetics
​ Architects and engineers love Corelite for its perfect balance of beauty and performance. Everyone appreciates the easy instillation that helps keep jobs on budget and on schedule.
Explore Corelite through our wall-mounted, recessed, and linear light fixtures
Let your lighting do more.
Mix and match your favorite lighting fixtures to create uniquely lit spaces while having the benefit of connected lighting controls. Select Corelite products with an integrated sensor are compatible with WaveLinx PRO and WaveLinx LITE.
Choosing the right product can be tricky, we're here to help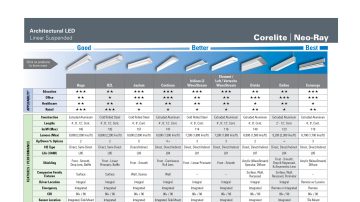 Corelite Product Selection Guides
Simple yet powerful tool to help you and your teams with Corelite product comparison and selection based on features, performance, and relative value.
Our market and application solutions
Corelite offers a unique array of high-performance LED luminaires perfectly suited for today's architectural interior environments.
Ideal for these spaces:
Other Corelite wall mounted, recessed, and linear light fixtures that may be of interest