For over 65 years, HALO is the most trusted brand of builders and contractors for canless and can lighting. We provide the most comprehensive line of products to meet your needs with easy and quick installation to get off the job faster while reducing material and labor cost for new construction and renovation jobs.
HALO Resources
Let us help choose the correct recessed downlighting for the job.
Canless lighting design guide
Use our Product Design Guide to determine the correct canless light for your application and needs.
Downlight selection guide
Use our Product Selection Guide to determine the correct downlight for your application and needs!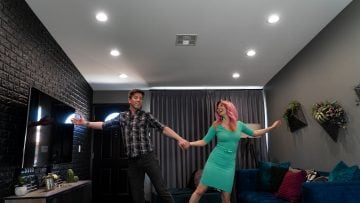 Property Brothers Case Study
JD & Annalee's home renovation was featured on Property Brothers: Forever Home in 2019. Because of JD's positive experience with CLS and HALO Home, we've continued to grow our partnership with him.
Commercial downlighting brands
Looking for a Smart Home?
HALO Home is a whole home smart lighting system that gives users convenience, energy savings, and home security. Create a smart lighting system with a range of lights, controllers, and accessories that work seamlessly together with existing fixtures.