Innovative design. Unmatched optical performance.
IRiS was developed with the belief that technical excellence should be balanced with aesthetic needs to achieve the perfect combination of performance and visual comfort. Developing translating center beam optics, IRiS downlights maximize light output and eliminate glare, producing the most visually comfortable downlight available.
Looking for a replacement for the P3LED/PN3LED Series?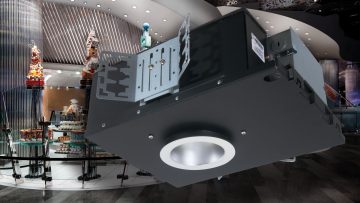 Small size, powerful performance
The Portfolio LDA3B is designed for new construction, the adjustable accent downlight features field interchangeable optics from 10°-70°, offering the ultimate flexibility to satisfy specific application needs. The unique adjustable design allows the luminaire to be installed in sloped ceilings in addition to traditional flat ceilings. Offering 365° rotation and lockable tool-less 45° tilt with center beam optics provide full output without flash back. Optical system provides superior light control and low aperture brightness while delivering over 80 lm/W. Standard 0-10V driver dims to 1% with a multitude of optional drivers available.
Highly configurable with high performance optical design for glare-free illumination focused on architect and lighting designer requirements.
Ideal for these spaces:
Our brands
HALO Commercial
HALO Commercial's recessed lights delight specifying engineers with the right balance of visual comfort and energy efficiency that meets commercial code.
Portfolio
Specification-grade recessed and surface-mounted downlighting that offers superior optical performance and control.
Shaper
Explore our commercial pendant and accoustic lighting. Shaper by Cooper Lighting features differentiated designs for a timeless impact.
Neo-Ray
Specification-grade linear solutions with contemporary visual aesthetics for architectural spaces