More and more departments of transportation, municipalities and other communities are utilizing video surveillance cameras integrated into their street and area lighting luminaires. But are they really a better security option than the surveillance cameras we see affixed to buildings and other structures?  Before we consider the advantages and disadvantages of both, let's take a quick look at why video surveillance is so effective.
Video surveillance increases safety and security.
It does so in several ways.
First, it acts as a deterrent. There's ample evidence that would-be criminals prefer easier, lower-risk targets – and they definitely do not want to be seen or recorded committing a crime. Even reckless drivers tend to be more mindful of traffic laws when they know video surveillance cameras are being used by law enforcement.

This leads to another advantage of video surveillance: it provides the kind of accurate review of events that leads to the arrest and conviction of criminals.
And video surveillance provides people with a greater sense of safety. For example, businesses find that their employees and visitors have more confidence going to and from the company parking lot when they know the area is being monitored by video surveillance.
Many of today's integrated video surveillance cameras, like the LumenSafe line from Cooper Lighting Solutions, automate the streaming process. So, instead of the potential for error and privacy issues related to having a person constantly monitor the video feed, a more precise video management service uses sophisticated automation to detect anomalies to alert authorities to any potential threats or changes in traffic patterns.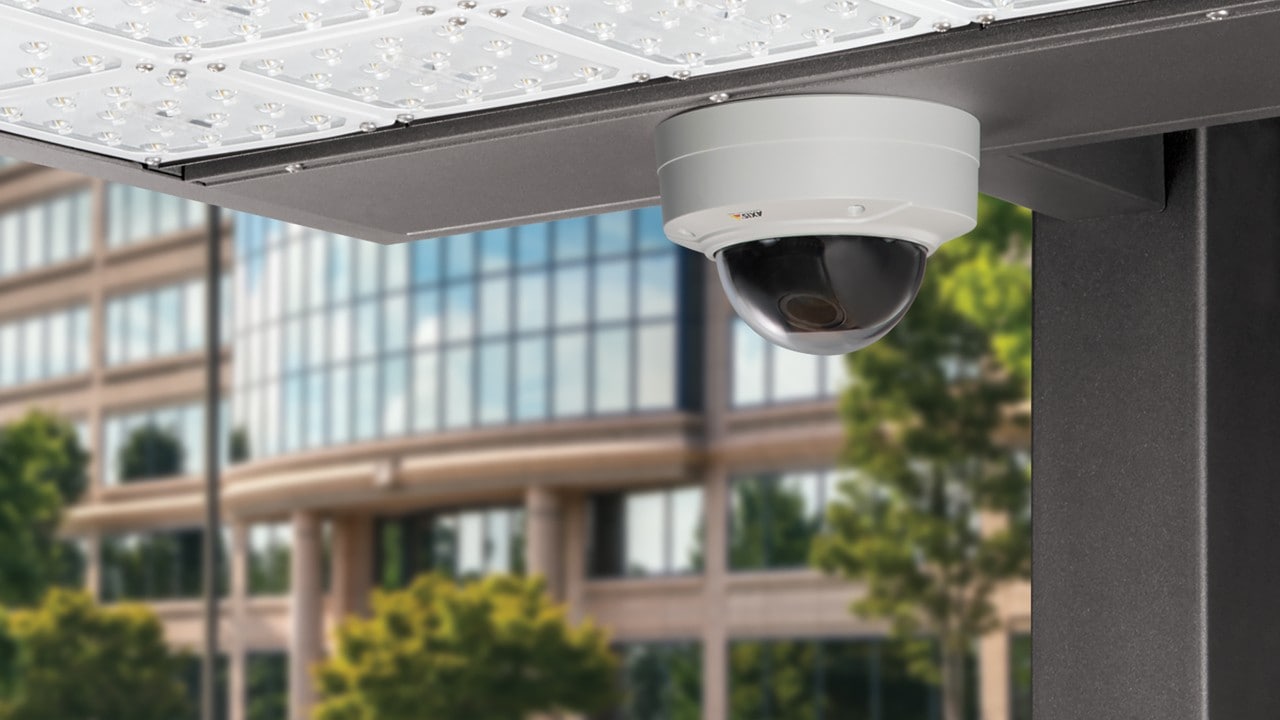 The most obvious difference between surveillance solutions mounted on buildings vs. attached to light pole fixtures appears at night.
Most violent crimes occur after the sun goes down. And that's when light fixture surveillance solutions really shine, literally and figuratively.
The camera that's mounted to a street lighting pole, integrated into the light fixture comes with its very own light source – a powerful fixture that illuminates a large area without leaving any shadowy corners – so the camera has a clear line of sight, with no glare issues, to anywhere the light is thrown.
The camera on the side of the building can't always be located in a spot that would maximize the amount of light available. There are architectural obstructions to contend with, troublesome mounting surfaces that dictate where a camera must be located, and height restrictions in the case of a one-story building. As a result, the video captured by the building-mounted camera won't be as high-quality as the video from the light fixture camera.
Fixture-mounted surveillance solutions are harder to vandalize.
We've all seen the surveillance cameras sitting on mounting arms attached to the sides of office buildings. That's the problem, we've seen them because they're obvious and that makes them irresistible targets for some vandals.
The video surveillance solutions integrated into the light fixtures are discreet and located 20-35 feet high, hardly the easy targets most would-be criminals prefer.
Building-mounted surveillance cameras tend to cost less. But light fixture surveillance solutions are much easier and less expensive to install.
Integrated camera lighting solutions not only provide an easy mounting platform for the video camera, but the fixtures also provide the electrical power source, resulting in minimal wiring and labor hours during installation.
When mounting traditional surveillance cameras, an electrical power source must be run up to the camera. The logistics alone can be complicated – and can limit where the camera is installed. Electrician and/or electrical contractor hours are a major expense during installation.
Now, besides keeping key areas well-lit, Cooper Lighting Solutions can also help you keep an eye on things.
Our LumenSafe line brings the ease of deployment to a whole new level, with lighting and surveillance solutions that help create safer, more connected communities. Learn more about our all-in-one lighting and surveillance solution.