Connected street lighting, like Telensa from Cooper Lighting Solutions, is the superhero cape that gives the humble streetlight all kinds of superpowers.
By connecting streetlights with smart technology, operators (typically utilities and municipalities) are able to centrally manage their lighting infrastructure through a system that works via wireless network architecture. The unprecedented control connected street lighting offers utilities/municipalities enables them to realize network-wide benefits. Let's take a look at four of them
1. Decreased energy consumption and costs
Standard street lighting can cost a city up to 50% of its entire energy budget.1 The potential for savings as well as lowering carbon emissions is considerable. Connected street lighting provides utilities/municipalities extraordinary control and scheduling capabilities. Telensa, for example, provides users with a graphical view of the real-time status of every one of their fixtures. This data, combined with analytics tools, helps them finetune lighting usage to keep waste at an absolute minimum.
2. Improved asset management
Smart street lighting connects utilities/municipalities to the status, operation, and control of all their fixtures. Telensa's proprietary Central Management System, PLANet, monitors the user's streetlights 24/7, providing real-time readings and fault reports, reducing the need for night patrols. And if you're already using asset and fault management systems using APIs? No problem. Telensa will easily integrate with your existing system(s).
3. Simplified operation and maintenance
If a streetlight is malfunctioning, the utility/municipality is alerted immediately. With a Telensa connected streetlight network, the alert includes the precise location of the streetlight. Telensa smart controls make it possible to diagnose the malfunction remotely, so the maintenance crew can be informed and prepared before heading out to the site. First-time fix and resource planning are improved, operations run more efficiently.
4. Increased safety and citizen well-being
Quite simply, connected street lighting helps you keep the lights on when needed. Telensa wireless remote control provides the flexibility needed to provide the right lighting experience for any area. In a downtown retail district, let's say, crime may be a concern so the utility/municipality may arrange for brighter lighting during evening hours; whereas near a forest preserve, light pollution may be the biggest evening lighting concern and dimmer illumination may be called for.
Perhaps Telensa's most impressive feat is the simplicity and elegance of how it works.
Telensa infrastructure- and utility-grade smart street lighting has only three basic components: the Telecell, Base Station, and Central Management System.
The Telecell is a discreet unit, about the size of a regular photocell, that fits atop a streetlight. It provides utility-grade metering and GPS services.
The Base Station is a long-range radio, about the size of a laptop, that can connect up to 5,000 light poles. It works on a dedicated network that's owned by the streetlight operator.
And PLANet, Telensa's proprietary Central Management System (CMS), is the software that essentially provides users with complete control and monitoring capabilities, detailed 24/7 operational intelligence, and flexible hosting options.
For more detailed information about how Telensa smart street lighting works and what it could do for your community, please visit cooperlighting.com/global/brands/telensa.
A practical example.
Say there's an accident on the highway at 3:00 AM. A vehicle hit a light pole.
Telensa connected street lighting automatically sends an alert to the utility/municipality with information about the precise location of the streetlight(s) involved.
It takes the utility/municipality only a couple of minutes to remotely make the streetlights around the accident shine at their brightest, enhancing public safety and providing first responders with an extra edge.
Telensa's diagnostic capabilities enable the utility/municipality to remotely assess the damage to the light pole affected by the accident and the maintenance team can be informed what equipment to bring when they go to the site.
The result? Improved service and safety for citizens. Faster response time and less streetlight downtime. Improved maintenance efficiency and lower associated costs.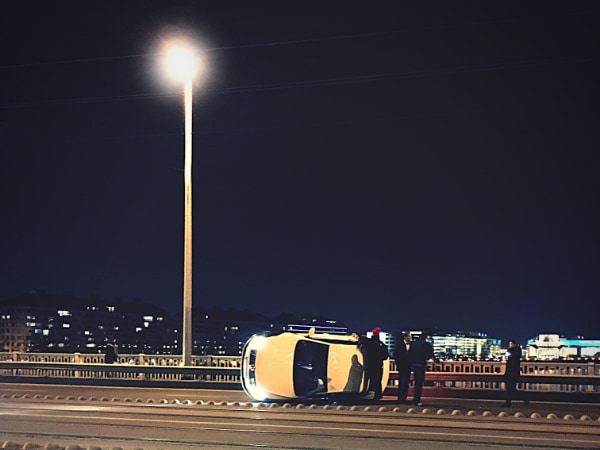 Resources