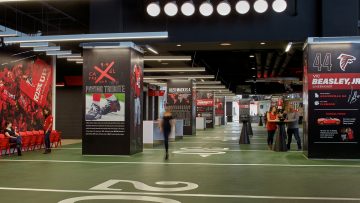 Background
Mercedes-Benz Stadium is a 71,000-seat stadium built in Atlanta, Georgia, US. Construction began in May 2014 and the stadium opened in August 2017. The Mercedes-Benz Stadium has played host to many events, including Major League Soccer, NCAA football, and concerts by today's top artists to name a few. Developed by Georgia World Congress Center Authority, the $1.5bn new stadium replaced the Georgia Dome as the home of the NFL team, the Atlanta Falcons. The interior of the Mercedes-Benz stadium features a variety of seating options, including 190 luxury suites and 7,600 club seats. The capacity is expandable up to 83,000 seats based on the event. The stadium also features 24 bars and restaurants, a technology lounge and a 100-yard bar.
Opportunity

The stadium designers were looking to obtain a LEED platinum rating from the US Green Building Council. The stadium was looking to include a number of sustainable features, including LED lighting which would reduce the stadium's energy and maintenance costs. In addition, light fittings would be used as wayfinding devices and color-changing LEDs would be used to illuminate the stadium's façade.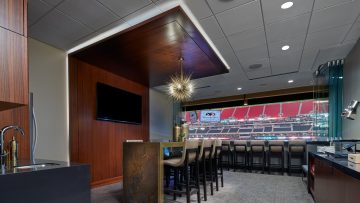 Solution
Over 7,000 Portfolio fixtures were used at the Mercedes Benz stadium including recessed downlights, directional/accent luminaires, wall wash luminaires and cylinders. Portfolio products were selected because of energy efficiency, customizability, superior cutoff, optical performance, controllability and the need for connected solutions. Portfolio products are designed for glare-free illumination and seamlessly complete all spaces creating a sleek and stylish environment.
Learn more about Portfolio HERE.