Robust design, reliability, and performance
We're among the select few American lighting companies who manufacture their decorative, street light, and parking lot light poles in-house. This allows for superior quality control and expertly-tailored end products that meet market needs.

Choosing the right solution can be tricky, we're here to help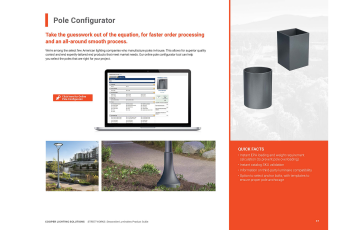 Decorative, Street, and Parking Lot Light Pole Configurator
Our online pole configurator tool can help you select the decorative, street, or parking lot pole that is right for your project.
Outdoor Finish Guide
Use this guide to quickly compare the color offering on various products.
Explore street and parking lot light pole solutions
Application Photography