After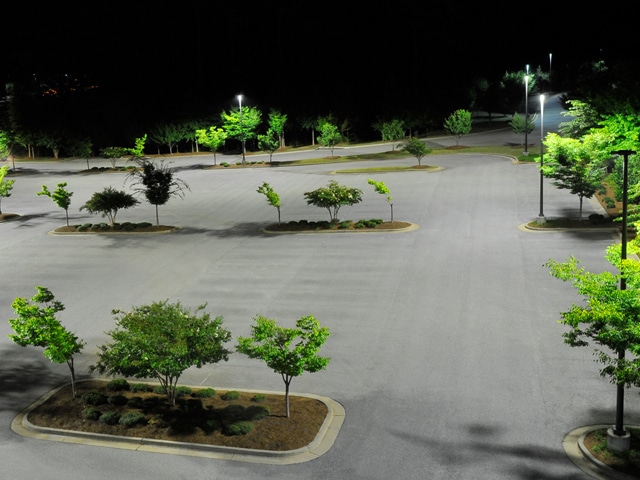 Before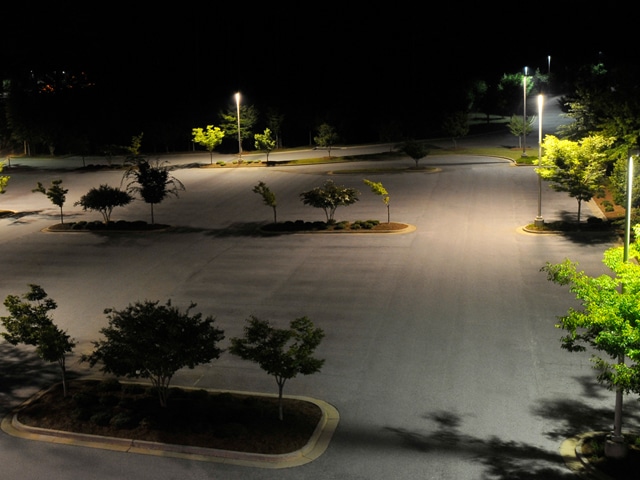 SIGNIFICANT ENERGY SAVINGS WITH NEW OUTDOOR LED LIGHTING
CLS upgraded existing 400W metal halide area/site lighting fixtures with LED luminaires at its corporate headquarters in Peachtree City, GA. The results are significant. The Ventus™ luminaire, which features 12 LightBAR™ optics, consumes only 309W compared to 458W from the metal halide fixtures, while still providing the recommended light levels. In addition, the AccuLED Optics™ system provides shaped light distributions creating even, uniform illumination exactly where needed. The new lighting also provides a benchmark warm white light of 4000K correlated color temperature (CCT) with no sacrifice in lumen output or lighting performance. The fixtures have a projected average rated life of 50,000 hours, which is six times longer than the previous system.

CONTROL IMPLEMENTATION
An Eaton Controls system was implemented to change light output (lumens) and decrease the power supplied to the fixtures during curfew hours. By varying the number of LightBAR optics being illuminated at a given time, additional energy savings is achieved.

• For pedestrian safety from dusk to 10:00 p.m., the Ventus operates at full power using all 12 LightBAR optics, which still provides 33% in energy savings compared to the older metal halide fixtures.

• From 10:00 p.m until 1:00 a.m., the fixtures are powered down using eight LightBAR optics resulting in a 55% energy savings.

• From 1:00 a.m. until 4:00 a.m., the fixtures use four LightBAR optics resulting in 77% energy savings.

• From 4:00 a.m. until dawn, the fixtures are back up to full power (12 LightBAR optics) to illuminate the parking lot for employees coming into work, still resulting in a 33% savings.

VENTUS LUMINAIRE KEY FEATURES

4000K CCT STANDARD: With typical LED outdoor area products standardized on a cold blue color temperature (6000-6500K CCT) to drive performance, the Ventus' desired 4000K color temperature meets/exceeds competitor photometrics with no sacrifice in lumen or lighting performance.

ACCULED OPTICS SYSTEM: The AccuLED Optics system features a choice of 15 unique optical distributions to satisfy every application need with more task lumens, with efficiencies as high as 95%. Each optic produces 100% of the distribution shape. Individual optics are not aimed to specific portions of the beam.

LIGHTBAR TECHNOLOGY: Ventus is offered in two to twelve LightBAR system configurations, rivaling 70W to 400W HID solutions, respectively. Each LightBAR optic produces nominal 1750-1850 lumens (depending on distribution) and consumes 26W each (board and driver).
40°C AMBIENT RATING: Ventus' ambient rating of 40°C ensures the fixture operates cooler and can safely perform in high ambient temperatures. The LightBAR optics are IP66 rated and each luminaire comes standard with a 10kV surge suppression providing industry leading protection against surge failures.


After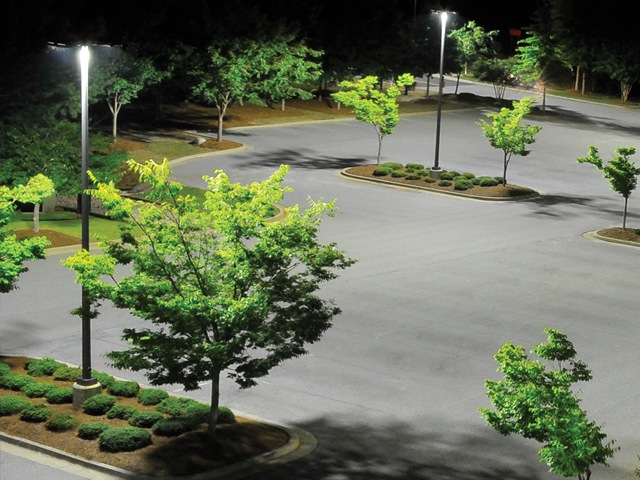 Before